A POTTED HISTORY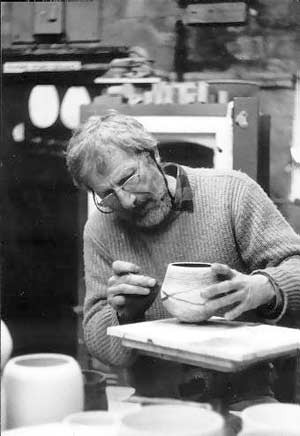 My studio pottery is situated in Orkney and all my work is in stoneware and porcelain.

BACKGROUND

We moved to Orkney in 1985. Prior to that I had been teaching art and art history for about 20 years. I studied at Falmouth School of Art (BA Hons Fine Art - Sculpture) and the pottery was established in 1989. Since then I have exhibited widely including London, Paris and Edinburgh with work in notable private collections worldwide.

I developed a keen interest in the history of ceramics from the Neolithic and early bronze age periods through to the beginnings of European civilisation and Celtic and Cycladic art. This interest fed the forms of much of my earlier work and still does.

Living in Orkney has been all important to how things have developed. That said, my formative years were in Cornwall where I trained and worked in the late sixties and seventies. It was a magical time.

RECENT WORK

I have begun to revisit those earlier years. I, and many others, benefit from the Collection of St Ives Art housed in the Pier Arts Centre, Stromness Orkney. I am privileged to have known many of those artists who (unknowingly) contributed to that Collection in those far off days and I have carried that way of looking and seeing and feeling with me ever since.

These more recent pieces, including the Box Frame images, all relate to Orkney: its coastal and marine environment and its landscape, from the larger picture down to the smallest object found on a beach...

- John Struthers

(Right - work on display at the Pier Arts Centre, Stromness; Below - a wander around the pottery)